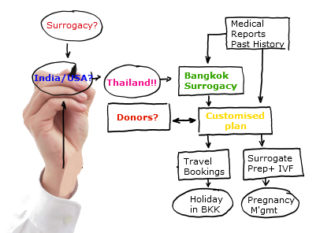 Here at Dubai fertility services, we understand that deciding on your future in terms of having a child often comes as a pain staking task. Moreover, it usually taken them more than an year to plan on the same aspect and that's where at Dubai fertility services, we always back you up with all the required information and suggestions through our specialized medical consultants.
If we talk about the process of finding a gestational carrier for your future child, it requires a lot of patience and expertise at the same time. One of the key aspects during the same are finding the right gestational carrier for your child, taking care of your whole Itinerary, making you deal with the best doctors and providing the most ethical and legal advice for your specific case requirement .
Backing you at every step
Our team of specialized medical experts comes along with years of experience and knowledge to ensure the delivery of right treatment at the right time for your specific case.
Affordable services – At Dubai fertility services, we strongly believe in delivering top notch medical treatments and services at really affordable packages.
Locally based office – We take utmost pride in calling ourselves as the locally based global agency whilst having our office based in the heart of the Dubai city. Moreover, over the past few years, we have strengthened the business relationships with our partner clinics in order to bring only the best levels of medical treatment at your service.
Getting onboard with Industry Professionals – During the course of your medical journey, we make you get along with one of the best psychological, insurance, financial and legal professionals across the globe who will be there along with us to help and support you at every step.
Understanding your needs better – we first aim towards getting a deep thorough look at your specific requirements in term s Social, moral and ethical values in the child gestational carrier you required and further go ahead in the same manner. The Gestational carriers have been required to submit their past pregnancy records, insurance policies, a letter of good health from their doctor and they further go through a number of medical and psychological screenings.
Apart from all the relevant checks, we also ensure to take down a deep Social background check of the gestational carrier before going ahead with further procedures and agreements.
Years of experience and ground knowledge – The Director and founder of Dubai fertility services Mr. Gaurav Wankhede comes on board with an extensive educational background and proven business acumen in the past which has helped us in serving only the best to our clients over the years.